Current challenges in long-distance multiphase transport are related to effects of water such as water accumulation, corrosion and generally incomplete understanding of three phase flow. The demand for flow loop testing services that can provide three phase flow is high today, especially related to testing of multiphase flow monitoring equipment.
To strengthen our commitment as a world leading multiphase flow test facility, we now upgrade of our Large Scale Loop to enable studies of three phase flow. The ambition is to:
Maintain current gas flow capacity *)
(typically 1500 Am3/h)
Provide total oil-water flow capacity >100 m3/h, and water cut virtually from zero to 100%
Maintain current HC fluid flow capacity in two-phase cases (typically 500m3/h)
The upgraded laboratory enables groundbreaking full scale experiments on gas dominated three phase flows, and will serve most laboratory test requirements from the rapidly developing subsea process industry.
*) Natural gas capability is not included in the scope of this upgrade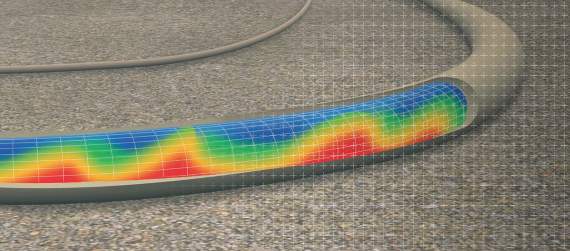 Illustration: Kongsberg Oil&Gas Technologies
Contact person